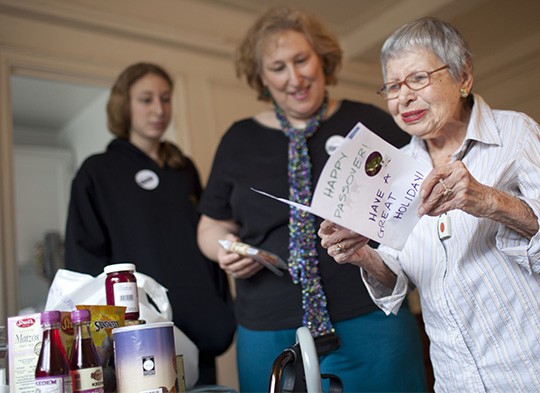 This Passover, thousands of Jews across the former Soviet Union participated in festive holiday activities — Seder meals, volunteer opportunities, cooking workshops and cultural performances — sponsored by the American Jewish Joint Distribution Committee (JDC), Federation's overseas partner.
More than 50,000 boxes of matzah were delivered to needy elderly Jews through partnerships with the Claims Conference and the IFCJ Food and Medicine Lifeline. Scores of Jewish volunteers — representing a growing multigenerational movement of individuals aiding their neighbors in need — also delivered holiday packages and visited homebound elderly as part of the annual Passover celebrations.
"For generations, JDC has proudly helped Jewish communities celebrate Passover's enduring message of freedom in the face of oppression. Most poignantly, the Jews of the former Soviet Union, whose Jewish identity was almost extinguished, are now observing Passover with enormous vigor, innovative cultural fare, and a focus on ensuring their neediest fellow Jews share in the holiday," said David Schizer, CEO of JDC. "As Jews around the world gather to celebrate our collective journey to freedom, let's follow this powerful example and remember the neediest by leaving a place at the table for those whose lives can be made better by our care."
For Nadya B., a 65-year-old in Ukraine with severe heart disease living on a pension of only $44 per month, Passover can be a particularly lonely time when the toll of poverty and illness becomes more acute. But the box of matzah Nadya received reminds her of traditions from her childhood, a time she fondly remembers spending with her Yiddish-speaking grandparents. The food and medicine support she receives is delivered by the JDC's Hesed social welfare center in Odessa, where dozens of Jewish seniors in similar circumstances to Nadya will gather to create a community and to celebrate a Seder meal.
In other parts of the former Soviet Union, like the Moldovan capital of Kishinev, dozens of volunteers of all ages from the local JCC will be delivering boxes of matzah, and cooking and serving a Passover meal for poor, Jewish seniors. These volunteers, eschewing the lingering Soviet disdain for philanthropy and service, are part of efforts in their country and wider region, to strengthen Jewish life and care for the most vulnerable. In the Moldovan city of Beltsy, JDC youth club volunteers will visit homebound seniors to ensure they don't celebrate the holiday alone.
Federation thanks our donors for supporting our overseas programs and our partnership with JDC.