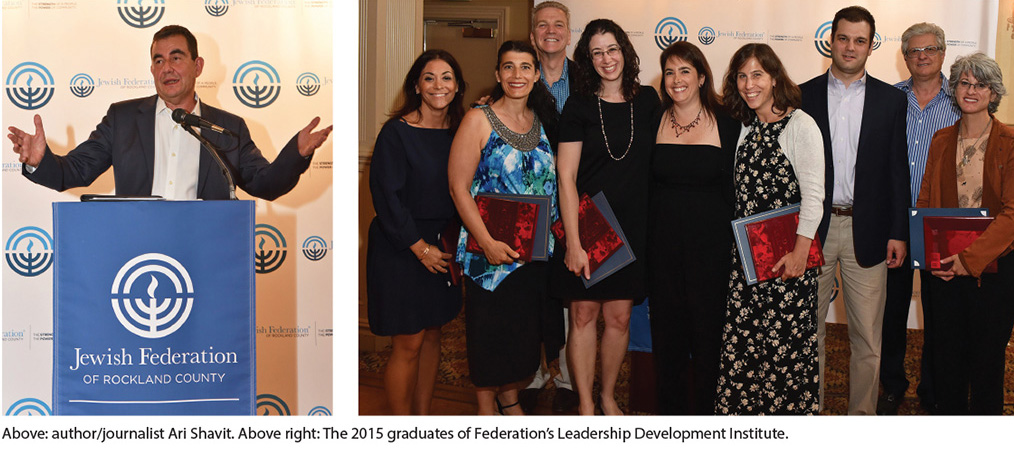 Members of Rockland's Jewish community gathered at Town & Country in Congers on June 8 to celebrate Federation's graduates and to hear from keynote speaker Ari Shavit, author of the bestselling book, My Promised Land: The Triumph and Tragedy of Israel.

The program began with remarks from Rob Grosser, Federation's outgoing president. Grosser spoke of the successes achieved by Rockland Federation over the past two years and reaffirmed that Federation is "a relevant, vibrant organization making a positive impact on people's lives every day."

Following Grosser's words, Roberta Seitzman, Federation's Director of Adult Education announced the 2015 graduates of the Florence Melton School of Adult Jewish Learning. Susan Kronick spoke on behalf of the graduates and was honored along with her classmates Susan Gordon, Carol Haspel, Susan Kirshner, Arlene Moskowitz and Harriet Wolf.

Keynote speaker Ari Shavit addressed the audience next and his words were powerful and inspiring. Shavit spoke of steps necessary for peace in the Middle East as well as the relationship between Israel and the United States. According to Shavit, "There is no future for Israel without the U.S. and there should be no future for the U.S. that doesn't include Israel. These two nations are two great miracles. To save them we must be bold, we must be courageous and we must act."

Graduates of Federation's Leadership Development Institute (LDI) were also honored at the event. Now in its sixth year, LDI is a dynamic nine-month program that gives participants the training and tools necessary to become effective leaders in Rockland's Jewish community. Lara Epstein, Director of Community Outreach and Engagement presented certificates to graduates Scott Coopersmith, Tammi Fox, Paul Franzese, Lisa Jay, Aaron Kleinman, Sean Levin, Melanie Marchfeld, Bethel Marcus, Alan Pressman, Ian Sherman and Viki Steinberg.

The evening concluded with nominations and voting on the 2015-2016 board. Federation also bid a fond farewell to Timna Mekaiten, departing community shlicha (Israel emissary). Timna made an incredibly positive impact on the Rockland Jewish community and will be missed. Now that Timna's two-year stay has concluded, Rockland Federation will welcome Liraz Levi, our new shaliach, in August.