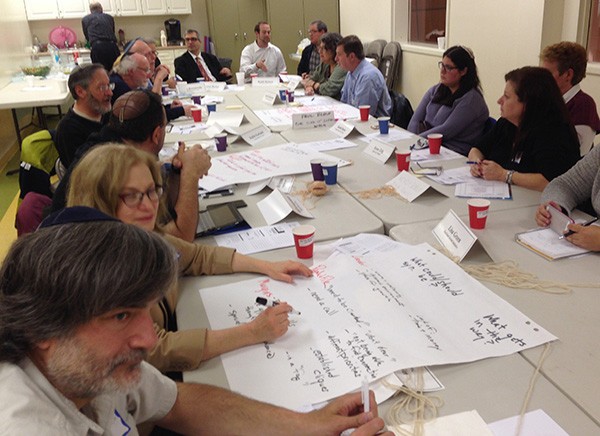 By Cantor Barry Kanarek, Director, Rockland Jewish Initiative
On October 15, representatives from synagogues all over Rockland County met for the first of four Connected Congregations sessions sponsored by the Federation's Rockland Jewish Initiative. Led by Dr. Leora Isaacs of Darim Online, the interaction was lively as participants learned about the role of empathy in creating connected congregations, i.e., congregations that encourage and nurture relationships within their communities. 
Why bring in Connected Congregations now? In last year's Jewish Rockland 2015 study, the authors advised that if congregations are to thrive and attract and engage participation, their communications, programs and mission statements need to be based on a broader reading of people's interests and willingness to be connected. The Connected Congregations curriculum was created to address this realignment, taking many of the concepts discussed in the past two years by the Synagogue Leadership Council and placing them in a relational framework with an emphasis on exercises and experimentation.
There will be four sessions of Connected Congregations in total, each building on the last. The remaining sessions are as follows:
Dec 17, 2015: Designing for Social.  Building on the group's understanding of empathy, this session will explore how to intentionally design congregational programs and processes to foster social connection (between members, across generations, between professional and volunteer leaders and the rank and file community). Teams will leave with concrete ideas of how they can begin to make this part of their congregational DNA, and the beginning of a plan for experimental implementation.
February 4, 2016: Communication: Talking the Talk in Order to Walk the Walk. In this session, synagogue representatives will participate in an exercise to clarify congregational values.  We'll examine and analyze examples from congregations that have made a shift in operations and language towards connectedness.  We will introduce a "Language Audit" tool that congregations can use to reflect on how well their communications reflect their congregational values -- and that can guide efforts toward better alignment between vision, values and communication.
April 7, 2016: Adaptive Leadership and Leading the Agile Congregation.  In the final session we will explore the skills, roles and culture of adaptive leadership and why it's critical for becoming a connected congregation. We will discuss why agility matters, what supports agility, and how leaders can manage risk and support change.  
For more information on Connected Congregations, please contact Cantor Barry Kanarek at bkanarek@jewishrockland.org or at (845) 362-4200, extension 170.